THE CLASSIC GREEN SPICED CHICKEN PALEO STYLE

What is Tikka?  A classic Indian dish made of marinated pieces of meat or vegetables and grilled to perfection.
Hariyali in Hindi means green or greenery or greenness and Hariyali Chicken Tikka basically means grilled marinated green chicken.
The marinade for this recipe is predominantly made of fresh coriander and mint which is what it gives it the (you guessed it) green color.
You would usually find Hariyali Chicken Tikka in the appetizer section of the menu at your local Indian restaurant, but I personally love it skewered and served as a main as well. It's wonderful alongside a salad or you can try pairing it with my turmeric lemon cauliflower rice or paleo paratha.
Yield/Servings: 2
Author: Riyana Rupani
Print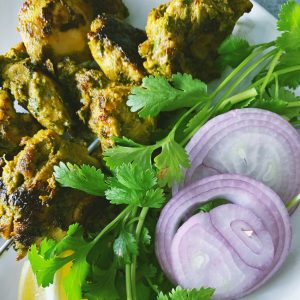 Paleo Hariyali Chicken Tikka
A Paleo version of the classic green spiced chicken.
PREPARATION TIME: 1 H & 10 M
COOKING TIME: 10 MIN
TOTAL TIME: 1 H & 20 M
INGREDIENTS
2 chicken breasts or thigh, cut into cubes
1 cup fresh coriander
1 cup fresh Mint Leaves
1 Green Chilli
1/2 tsp paprika (or Kashmiri chili powder)
1/2 teaspoon turmeric powder
2 tsp Graram Masala
1 tsp Amchur (Dry Mango Powder) or sub with 2 tsp lemon juice
1 tsp Cumin powder
2 tbsp coconut yogurt
1 tbsp avocado oil
Salt , to taste
INSTRUCTIONS
Wash and clean your chicken and cut into 1-inch cubes.
In a small food processor or blender add the coriander leaves, mint leaves, green chili, and grind to a paste, you can add water as needed to help the process but try to add as little as possible.
Transfer the green paste into a mixing bowl and add the coconut yogurt, oil, and the rest of the spices (masalas) which include- paprika, turmeric, garam masala, amchur (or lemon juice), cumin, and salt. Mix well and add the chicken pieces to this hariyali masala paste.
Marinate the chicken for a minimum of 1 hour
you can either grill these in pieces or skewer them depending on your preference and how you will be serving them.
Heat a grill pan (or BBQ) and add a little oil. Once hot, add your chicken and grill evenly on either side till you get a nice char. This should take about 5 minutes per side.
Don't crowd the pan and don't lift the chicken too often as this will prevent the charring we are looking for.
Serve with lemon wedges and pickled onions.