ADD THE PERFECT SPICE TO YOUR NEXT ANYTHING!

I love chili chutney, like LOVE it!
One of my favorite chili chutney/sauces hands down is Sabal Oelek and while it's super easy to get back home in the US, it isn't as easy here.
So whats a chili loving girl to do? Make her own, of course!
This recipe is super simple but you do need a high-speed blender, a food processor, or both!
I literally put this chili sauce on everything… maybe not a banana, but everything else!
hope you guys love this simple chili sauce as much as we do!
Yield/Servings:
Author: Riyana Rupani
Print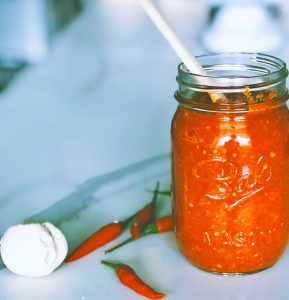 Quick Garlic Chili Sauce
A quick and simple chili sauce that tastes good on just about anything!
PREPARATION TIME: 5 MIN
TOTAL TIME: 5 MIN
INGREDIENTS
500 grams large red chilis, chopped (you can deseed for less heat)
2-3 smaller chilis (optional if you want more heat)
2 garlic cloves
1 Tbsp lemon juice
2 Tbsp white vinegar
1 tsp salt (or to taste)
INSTRUCTIONS
Put all your ingredients in a high-speed blender or food processor and blend until the consistency is to your liking.
Give it a taste and adjust the seasoning to your liking.  You can even add a bit of sugar to milden out the heat if you like
NOTES:
I don't have the best food processor, and I have a Nutri bullet for my blender which doesn't have a large capacity so I needed to first breakdown my chili's in the food processor and then transfer to my blender to get the consistency I wanted.