THIS RECIPE IS VERSATILE, NUTRIENT-DENSE, AND FULL OF FLAVOR.
I love a good one-pot meal and this one is a keeper.
So why is this soup anti-inflammatory?
First of all, it's made with real whole foods. No preservatives, or inflammatory processed oils or ingredients. Just a good source of protein, some healthy fats, some healing spices, and of course lots of wonderful vegetables.
3 Ingredients in this dish that really add an extra anti-inflammatory punch!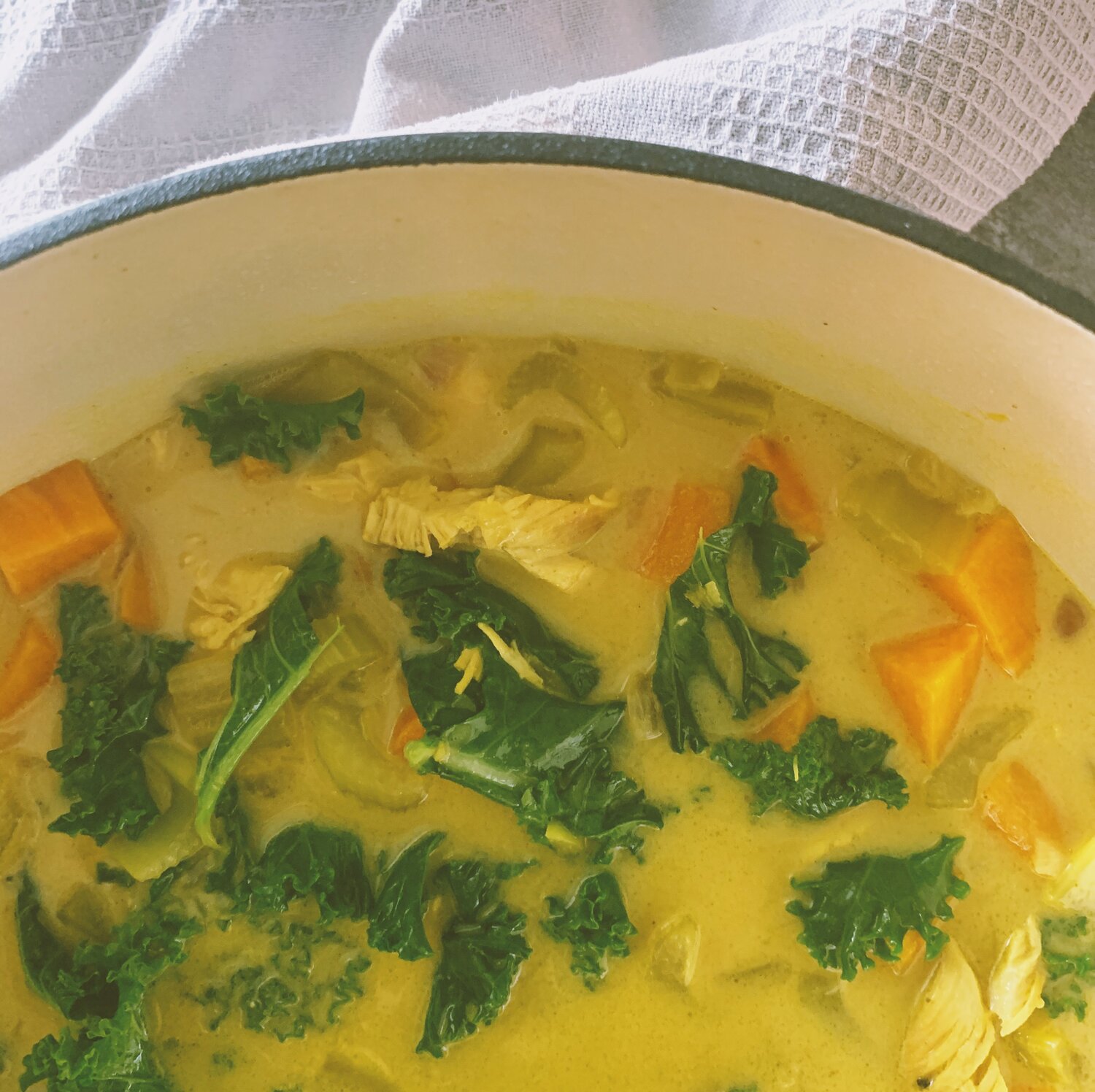 Turmeric – The compound Curcumin which turmeric is known for is shown to reduce inflammation. We are using a good amount in this recipe and that's what gives this soup it's beautiful yellow color
Ginger – The bioactive molecules in ginger, called gingerol is known to have antioxidative and anti-inflammatory properties
Bone Broth – Super nutrient-dense, filled with an amazing mineral profile and amino acid profile. The amino acids Glycine and Arginine are in particular known to be very anti-inflammatory. Here is my recipe
MAKE IT VEGAN.
This soup can easily be made vegan or vegetarian. Simply omit the chicken, add some alternative delicious veggies (I like zucchini, mushrooms, and green beans), and switch the bone broth to vegetable stock!
With minimal ingredients, this soup packs a punch both in flavor and nutrition.
Yield/Servings: 4-6
Author: Riyana Rupani
Print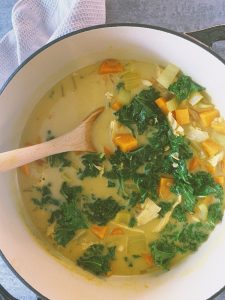 Anti-Inflammatory Golden Soup
A delicious simple one-pot soup that is nourishing and full of flavor.
PREPARATION TIME: 10 MIN
COOKING TIME: 30 MIN
TOTAL TIME: 40 MIN
INGREDIENTS
500 grams chicken breast, cooked and shredded or 1 can of white beans, black-eyed peas, or chickpeas for vegans.
1 Tbsp Coconut Oil
1 cup chopped celery (2-3 stalks)
1 cup chopped onion
1 cup chopped carrots
3 cloves garlic, finely chopped
1 cup chopped sweet potato
1 TBSP coconut aminos
2 tsp turmeric powder
1-inch piece of ginger, grated (or ½ tsp ground ginger)
Salt and pepper to taste
5 cups bone broth or stock (replace with vegetable stock for vegan)
3/4 cup of coconut milk
3 cups chopped kale or baby spinach
INSTRUCTIONS
Cook your chicken to your preference - boil, bake, pan-fry, all work.  Once cooked and cooled, shred and reserve for later. (skip this step for vegan option)
Heat your coconut oil in a large soup pot or dutch oven and add your onion, celery, carrots, and garlic and sauté on a medium flame for 5-7 minutes.
Add the sweet potato, turmeric, coconut aminos, ginger, along with half your broth/stock.  Stir and cover over medium/low heat to allow the sweet potatoes to soften, about 7-10 minutes.
Add the remaining broth/stock and coconut milk, and stir until combined. 
Add your shredded chicken or washed legumes of choice and season well with your salt & pepper.  let simmer on low for 10-15 minutes.
Just before serving add kale or baby spinach to the soup. It will soften and cook down quickly.
Taste and adjust salt, garnish with fresh herbs, chili flakes, or avocado.
NOTES:
Storage - This soup keeps well in the refrigerator for about 4 days. It freezes and defrosts well if you want to freeze extra portions for later!